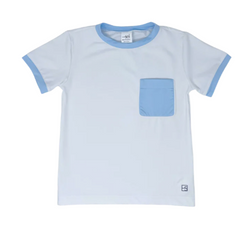 Bradley Tee- white & light blue
Boy Mommas!
The Bradley Basic T in pure coconut athleisure with cotton candy blue pocket and welting, is an essential and the perfect tee to build any outfit around all year long!!
Pair with shorts for summer and layer with the Henry Half Zip for cooler weather!

Easy wash and wear! For best results, wash on cold and tumble dry. 

80% Cotton 20% Lycra