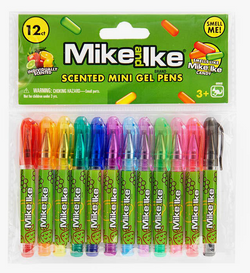 Kangaru Toys
Mike and Ike Scented Mini Gel Pens
12ct. Mini Gel Pens scented like Mike & Ike candies.
MIKE AND IKE Like Mike and Ike? Well, we have the perfect Markers for you. Only From Kangaru. Sweet Scented Markers, Gel Pens, Stickers, Journals and Stationery. Your Favorite Mike and Ike Candy scents are captured in this collection of scented Stationery, Markers, Colored Pencils, Gel Pens, Stickers, Activity Kits, Journals, Notebooks and More.
GREAT FOR BACK TO SCHOOL, BIRTHDAY GIFTS AND HOLIDAY GIFT GIVING.